Elizabeth Holmes or Elizabeth Anne Holmes is better known as a former American businesswoman and a founder and CEO of Theranos, an inoperative health technology company. Holmes' company was valued at $9 billion. This is the reason why she featured in Forbes 2015 list of the youngest and wealthiest self-made female billionaires in America. However, the next year her company was exposed, and its claims were all declared fraudulent. This made Forbes revisit their listicle and dragged down the published estimate of Holmes' net worth to zero. The magazine had also infamously named her as one of the "World's Most Disappointing Leaders".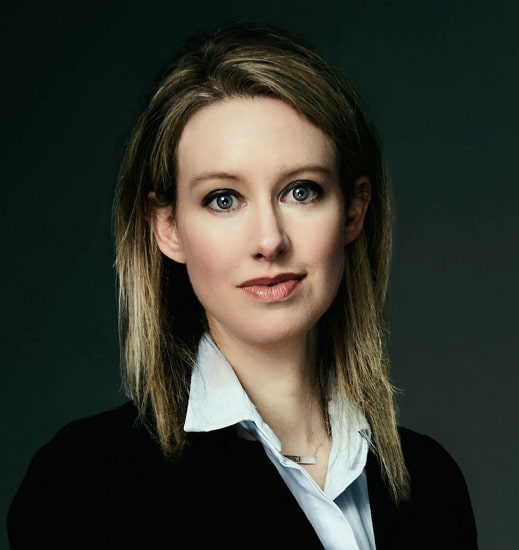 Theranos claimed that the healthcare technology company has revolutionized blood testing technology with state-of-the-art systems and detection methods that could also conduct blood tests with the help of surprisingly small volumes of blood such as from the finger pricks. However, it turned out to be false. Holmes is currently facing trials along with the former Theranos Chief Operating Officer (COO) Ramesh Balwani where if she is convicted Holmes might face up to 20 years of imprisonment in federal prison.
Elizabeth Holmes Wiki/Biography
Elizabeth was born on February 03, 1984, and is now 37 years old, as of September 2021. Elizabeth Holmes was born in Washington D.C.
She studied at the St. John's School in Houston. After completing her schooling Holmes went to attend Stanford with Chemical Engineering as her subject. She also learned Mandarin Chinese via home tutoring sessions arranged by her parents.
Furthermore, Holmes also attended Stanford University's summer Mandarin program. However, she dropped out of her college in order to start her own healthcare company. As part of the seed funding for her company, she used her own tuition money that she used to get to continue with her college education.
Family, Boyfriend & Relationships
Elizabeth Holmes was born Elizabeth Anne Holmes. She was born to Christian Rasmus Holmes IV and Noel Anne (nee Daoust). Her father was the vice president at an energy company, Enron, which went bankrupt later on after an accounting fraud scandal. He eventually held numerous executive positions in the government agencies like USAID, the EPA, and USTDA. Her mother, Noel, worked as a Congressional committee staffer.
Holmes met the technology entrepreneur Ramesh "Sunny" Balwani, a Pakistani Hindu who was born in Pakistan and immigrated to India and then later to the US in 2002 when she was 18 years of age. She was romantically involved with Balwani, though he was around 19 years older than her and married another woman during that time. However, Balwani eventually divorced his wife in 2002 and linked romantically with Holmes in 2003. Besides, the couple also moved together into an apartment in 2005. However, Balwani either left the company, Theranos or was fired by Holmes in 2016.
Holmes became engaged to William "Billy" Evans in early 2019. Evans was a 27-year-old man then and an heir to Evans Hotels, which was a family-owned group of hotels located in the San Diego area. The couple even got married in mid-2019 in a private ceremony. The couple currently lives in San Francisco and it was only in July 2021 that Holmes gave birth to a boy.