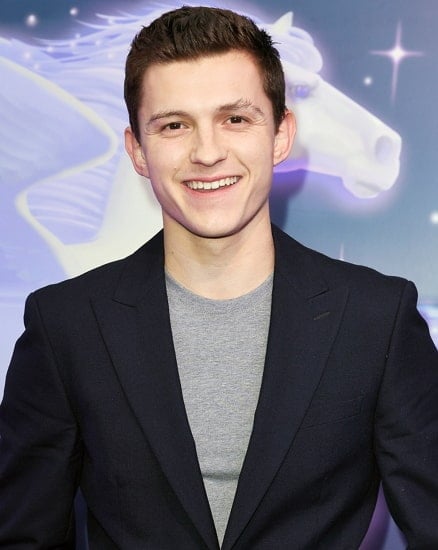 | | |
| --- | --- |
| Net Worth | $25 Million |
| Name | Tom Holland |
| Date of Birth | 1 June 1996 |
| Age | 27 Years Old |
| Gender | Male |
Tom Holland Net Worth
$25 Million
---
Thomas Stanley Holland, also known as Tom Holland, is an English dancer and actor. As of 2023, Tom Holland's net worth is $25 million. He accumulated his net worth by acting in high-profile films. For example, Tom was paid $250,000 to appear very briefly on "Captain America: Civil War".
Tom Holland's parents are Nicola Frost and Dominic Holland. They both work creative jobs; Nicola is a photographer, and Dominic is a comedian and author. When he was nine, Nicola saw Tom dancing to a Janet Jackson song and realized he had great potential. She enrolled him in dancing classes, where he was spotted by the choreographer for "Billy Elliot the Musical". Two years of acrobatics, gymnastics, and tap-dancing lessons later, Holland finally landed the role of the play's protagonist, which is how his career started.
However, he gained real popularity when he signed the deal with MCU for the role of Spider-Man. His name was entered in the Guinness Book of World record for being the youngest actor to act as the title character in an MCU movie.
He's experimented well out of his range in movies like The Devil All the Time and Cherry. Even though none of his endeavors outside of Marvel have done well, this is hopefully the beginning of his career, and many stellar projects are going his way.
He's also been nominated and received several awards for his diverse works at big award shows.
Tom has been exceptionally quiet about his personal life since the beginning of his career, and we can't say we blame him for that. The industry has a way of twisting things; if anyone has the option, it's best to keep personal things out of the public eye. There have been many celebrities whose relationships have suffered hugely due to the constant public opinion.
As far as known to the public, Holland has had four relationships in his career till now: Ella Lotherington, Naida Parkes, Olivia Bolton, and his current girlfriend, Zendaya Coleman. Although not much is known about his relationship with Zendaya, it's evident from the interviews that the couple is happier than ever together.
An interesting fact about Tom Holland is that he's always accidentally spoiling the upcoming Marvel movies. Although he's always forgiven due to his age and genuinely apologetic nature, his spoilers have often been the backbone of big controversies.
Tom Holland Wiki/Biography
Born on 1 June 1996, Tom Holland's age is 27 years old as of 2023. Tom Holland was born Thomas Stanley Holland to comedian and author Dominic Holland and photographer Nicola Frost. He was raised in Kingston upon Thames in southwest London and still lives near there to be close to his family and brothers. His zodiac sign is Gemini.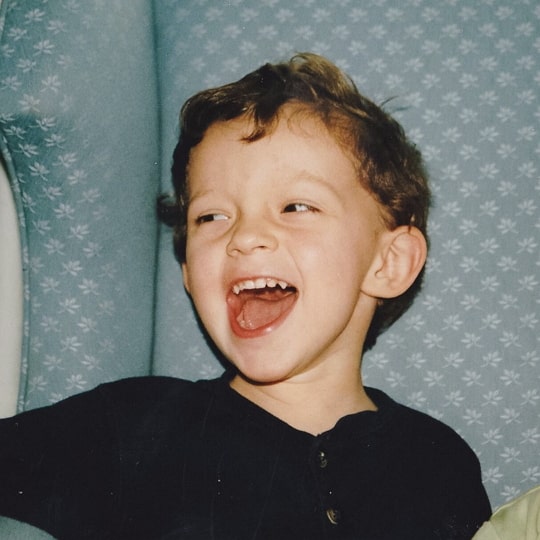 Holland attended prep school at Donhead, an all-male Catholic preparatory school in Wimbledon, in southwest London. At seven years of age, Tom was diagnosed with dyslexia. His parents sent Tom and his brothers to a private school to ensure that he got the required attention.
Tom went on to attend Wimbledon College and then the BRIT School For Performing Arts and Technology in Croydon.
As a child, Tom explored several career choices. Tom once danced to a Janet Jackson song for his mother, and she was so impressed that she enrolled him in dance classes at his private school. Tom has also taken a few classes at a carpentry school in Cardiff, Wales. He briefly considered becoming a primary school teacher as he enjoyed being around small children.
Tom has directed a three-minute short film called Tweet (2015)that shows a young man building a treehouse with his grandfather. He also mentioned his interest in directing feature films in his 40s.
When Holland was nine, he took hip-hop dance classes at the Nifty Feet Dance School in Wimbledon. He also performed there at the Richmond Dance Festival 2006 with his school dance group. Lynn Page, a choreographer, and assistant to Peter Darling, the choreographer for Billy Elliot the Musical, was also in attendance at the festival. Holland caught her eye, and Page set up an audition for him to perform in the musical.
Stephen Daldry was present at the audition and stated that Holland has potential and he's a natural at acting.
Tom spent the next two years training hard at ballet, acrobatics, and tap-dancing. He eventually landed the role of the protagonist's best friend, Michael Caffrey. His debut performance was at the West End's Victoria Palace Theatre in June 2008 in Billy Elliot the Musical.
He was soon promoted to the lead role in the play and worked in the musical for the next two years, till 2010.
After Billy Elliot the Musical, Holland got the opportunity to voice a role in the British dub of the Japanese fantasy film "Arrietty".
| | |
| --- | --- |
| Name | Tom Holland |
| Full Name | Thomas Stanley Holland |
| Net Worth | $25 Million |
| Date of Birth | 1 June 1996 |
| Age | 27 Years Old |
| Birth Place | Kingston Upon Thames, London, England |
| Profession | Actor and Dancer |
| Nationality | English |
| Hometown | London |
| Zodiac Sign | Gemini |
| School | The BRIT School for Performing Arts & Technology, Croydon, South London |
| College / University | Wimbledon College, London, England |
Parents, Siblings & Family
Tom Holland belongs to a well-settled family from Kingston Upon Thames, London, England. He is known to hold an English nationality and has his belief in the Christian religion.
His father's name is Dominic Holland, who is an English Comedian, Author & Broadcaster and her mother's name is Nicola Elizabeth Frost who is a photographer.
She also has three younger siblings. He has three brothers, Twins Harry Holland & Sam Holland, out of which Harry is also an English actor. His brother Patrick is just 13 years old.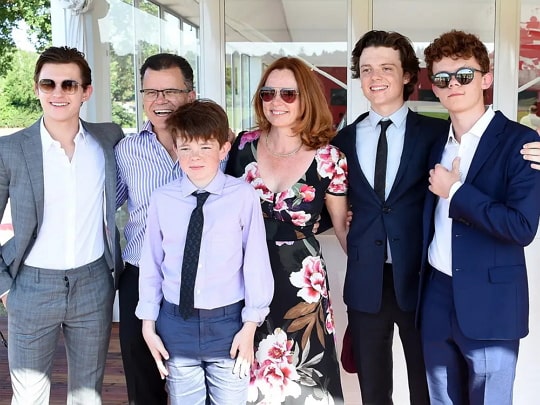 | | |
| --- | --- |
| Father Name | Dominic Holland |
| Mother Name | Nicola Elizabeth Frost |
| Brother Name | Harry Holland, Sam Holland, and Patrick (Paddy Holland) |
Girlfriend & Relationships
Tom Holland's marital status is unmarried. Tom Holland is currently relationship with his Spider-Man trilogy co-star Zendaya Coleman.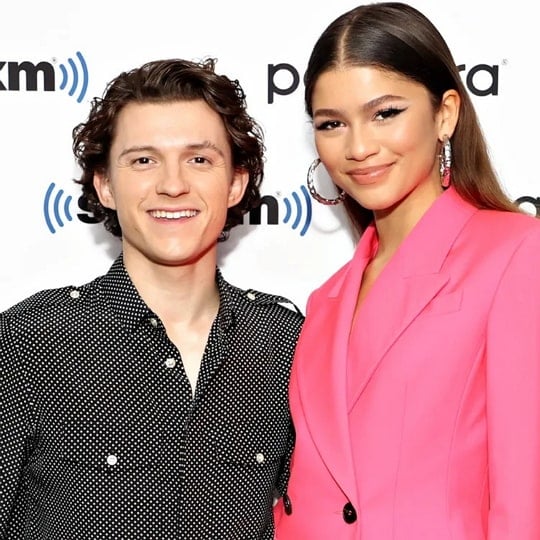 Tom started dating Nadia Parker, who both are reported to be quarantining together. They started dating in 2020.
Apart from her, in past Tom has also been rumored to be dating Elle Lotherington in 2015 and Olivia Bolton, childhood friends, and their relationship was confirmed by their parents from 2019-20.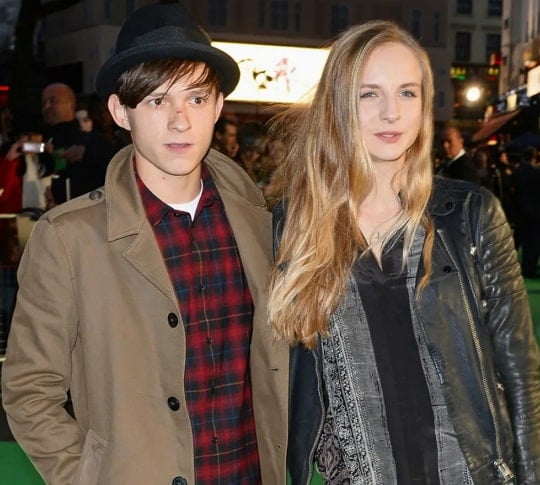 | | |
| --- | --- |
| Girlfriend | Zendaya Coleman |
| Ex-Girlfriend | Nadia Parker, Elle Lotherington and Olivia Bolton |
| Marital Status | Unmarried |
Physical Appearance
Tom Holland is a dashing and hot actor in the Hollywood industry. He is known for his dashingly charming and attractive personality. He has a cute smile, adorable looks, and a very impressive slim but athletic body.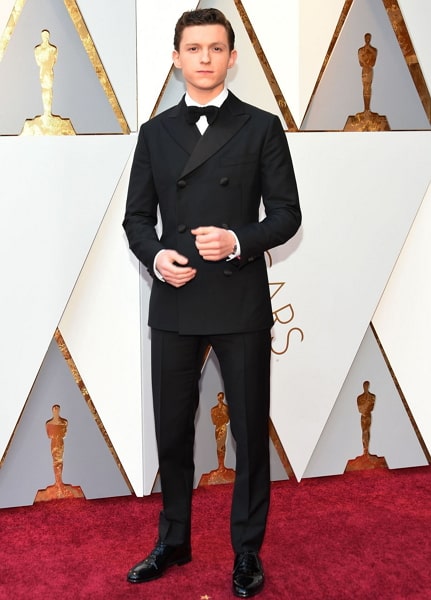 He owns a great slim body build-up with his biceps measuring about 13 inches. He is 5 feet and 10 inches in height and his body weight is around 64 Kg. He has silky and dark brown hair and also has beautiful and attractive dark brown color eyes.
Career
Tom Holland started his career as a dancer in London. He started with dancing at Nifty Feet Dance School dancing Hip-Hop in Wimbledon, London. He made a debut in 'Billy Elliot the Musical'. N September 2008, along with his co-star Tanner Pflueger, he gave his 1st TV interview. This was on the channel 'FIVE'.
Tom also feature in the show 'The Feel Good Factor' by ITV. On 31st January 2009, he performed a version of 'Angry Dance' from 'Billy Elliot the Musical' along with two other main characters. Tom also trained 5 British schoolboys for a dance routine.
On 8 March 2010, he was invited to the 10 drowning Street, to meet Gordon Brown, the then Prime Minister for the 5th anniversary of 'Billy Elliot the Musical'. He appeared on 3 more roles and later finished it on 29 May 2010.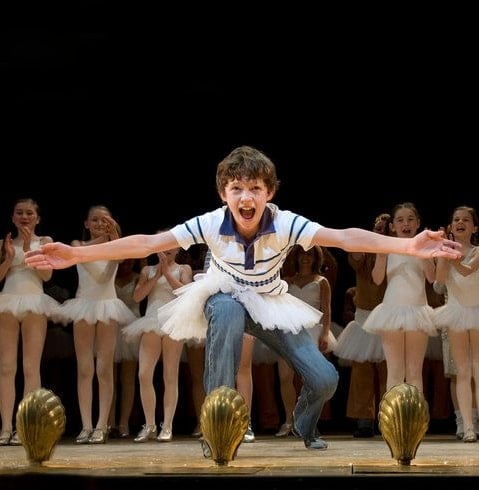 In 2010, he made his feature film debut with 'The Impossible', directed by J.A.Bayona, which premiered at the Toronto International Film Festival and was a critical as well as a commercial success. This was the 1st game-changer of Tom's life.
In 2011, he starred in the British dub of the animated fantasy film 'Arrietty' which was produced by Japan's Studio Ghilbi. He also voiced for 'Sho', the principal character.
In 2015, he appeared in 4 episodes of 'Wolf Hall', historical miniseries by BBC Two's as 'Gregory Comwell' and co-starred in the film 'In the Heart of the Sea' as 'Thomas Nickerson', directed by Ron Howard.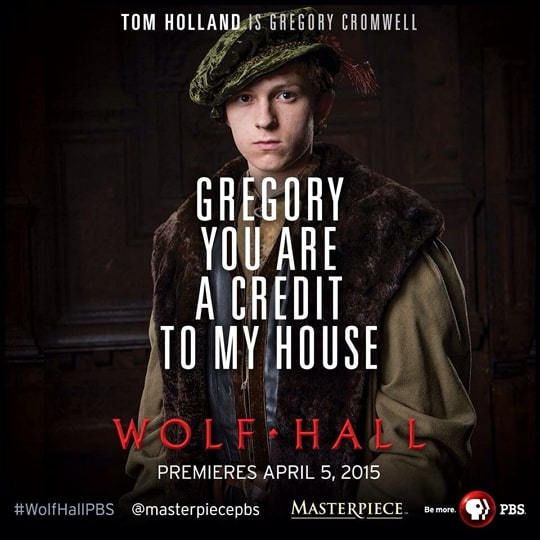 On 23 June 2015, he officially tweeted that he is going to play the teenage role of Peter Parker aka Spider-Man as part of a 6 picture deal with the Marvel Studios in the famous action sci-fi movies of the Marvel Cinematic Universe, commonly known as the MCU. This was the 2nd game-changer of his life.
In the year 2016, he starred in the film 'Edge of Winter' and played the role of 'Bradley Baker'. He was also part of the film, 'A Monster Call'. In 2017, he co-starred in the drama film 'The Lost City of Z', directed by James Gray, and the films 'Pilgrimage' and 'The Current War', which both were very successful.
In May 2017, he also appeared in 'Lip Sync Battle' by Paramount Network and also danced 'Umbrella' by Rihanna. In July 2017, 'Spider-Man: Homecoming' was released starring om in the lead role as the superhero 'Spider-Man'. This performance earned him a 'Guinness Book of World Records' as the youngest actor to play a role in the MCU and a lot of appreciation as well.
On 27 April 2018, he was seen reprised in the role of Spider-Man in 'Avengers: Infinity War' and later 'Avengers: Endgame'. On 2 July 2019, 'Spider-Man: Far From Home' was released which was again a great success.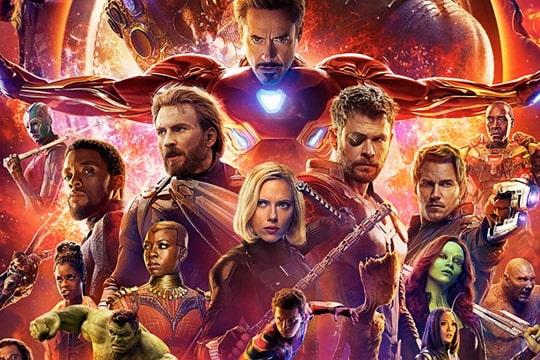 In 2019, he voiced in the animated film 'Spies in Disguise' by the Blue Sky Studios and later in 2020 in the action film, 'Dolittle', as 'Jip', a dog, and later as 'Lightfoot', an Elf in the animated film, 'Onward'. He later starred in a psychological thriller film 'The Devil All the Time' directed by Antonio Campos.
He is about to headline in 'Chaos Walking' an adaptation of a best-selling science fiction series and will also star in the Naughty Dog's uncharted video game series called 'Adaptation'. He may also be seen in the experiment epic 'The Modern Ocean'.
In October 2020, Tom started working on the sequel of 'Spider-Man: Far from Home', which is yet to be titled. The filming is expected to end somewhere in February 2021. According to Tom, he is now looking for being a director in the future.
Awards
Tom Holland has been nominated for about 34 awards so far and won 16 out of them including the 2013 Young British Performer of the Year by London Film Critics for 'The Impossible', the 2020 Favourite Superhero Award as Peter Parker aka Spider-Man by Kids Choice Award for 'Avengers: Endgame' and 'Spider-Man: Far From Home', the 2019 Choice Summer Movies Actor by Teen Choice Awards for 'Avengers: Infinity War', and many more awards.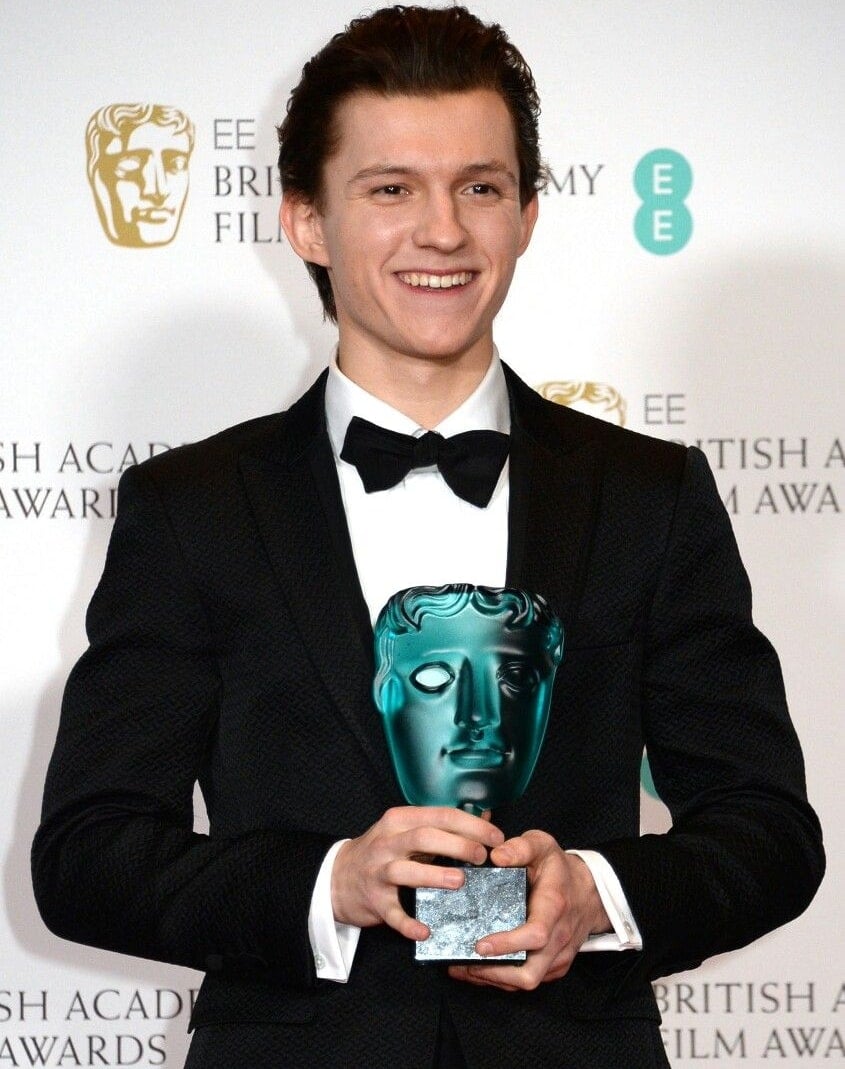 Apart from these, he has also won awards from Hollywood Film Awards, St. Louis Film Critics Association, Phoenix Film City Critics Association, Nevada Film Critics Society, National Board of Review, Online Film and Television Association, Empire Awards, Young Artist Awards, Golden Schmoes Awards, Saturn Awards, British Academy Film Awards, and many more. He has also been nominated for a lot more awards at such a young age.
Tom Holland Net Worth Summary
Tom Holland's net worth as of 2023 is $25 million. However, like many other celebrities, he hasn't dived into entrepreneurship yet, meaning he doesn't have a side business. 
This might seem like a small thing, but it isn't. Actors are freelancers, meaning their job is done on a project basis, and there's no stability. This is why most actors and artists start their beauty or clothing lines at the peak of their careers. So that even if they have problems with keeping up in their field, they'll always have something to fall back on.
Most singers have their merchandise, which is how they earn a large chunk of their income. For example, Billie Eilish, Taylor Swift, Charli D'Amelio, Dua Lipa, and many more have their trademark clothing lines.
Tom Holland Net Worth Growth
| | |
| --- | --- |
| Net Worth in 2023 | $25 Million |
| Net Worth in 2022 | $20 Million |
| Net Worth in 2021 | $18 Million |
| Net Worth in 2020 | $15 Million |
| Net Worth in 2019 | $12 Million |
| Net Worth in 2018 | $10 Million |
| Net Worth in 2017 | $6 Million |
Facts and Information
In the year 2006, he danced at the Richmond Dance Festival of the school, and Lynne Page, the famous choreographer was impressed by him.
After 2 years of training and 8 auditions, he made a debut in 'Billy Elliot The Musical', his West End debut playing the role of 'Michael', Billy's best friend.
At the age of 7, he was diagnosed with Dyslexia, a reading disability. Also, Tom owns a blue dog of the breed Staffordshire Bull Terrier and calls him 'Tessa'.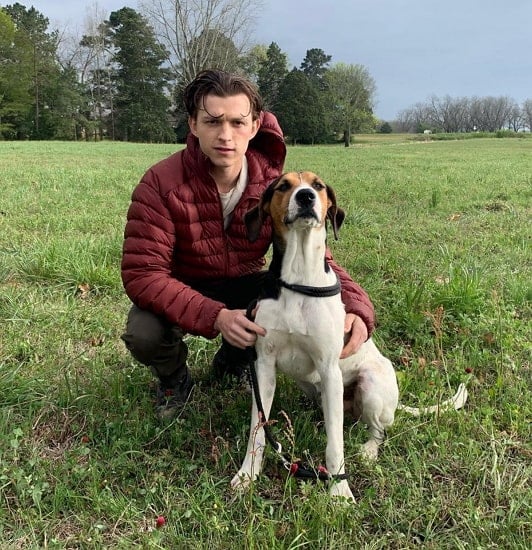 He and his 3 brothers, sponsor a UK based registered charity called 'The Brothers Trust' that raises money for various charitable causes.
Tom is the youngest Spider-Man cast. Before him, Tobey Maguire was 27 and Andrew Garfield was 29 years old.
Tom's body is so athletic that he can easily perform back, side, and front flips. Also, his dad wrote a book called 'How Tom Holland Eclipsed His Dad'.
Frequently Asked Questions
Q1: How old is Tom Holland?
Ans: Tom Holland is 27 years old.
Q2: How tall is Tom Holland?
Ans: Tom Holland is 5' 10" feet tall.
Also Read: